---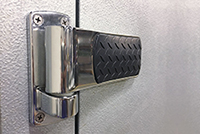 As a global provider of commercial hardware and accessories for the foodservice, industrial, and truck body industries, we set the standard of excellence.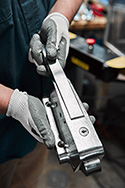 Our mission is to make hardware and accessories that improve our customer's products and ultimately create better experiences.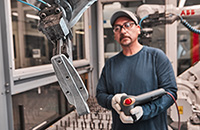 Investing in people devoted to world-class craftsmanship has allowed Kason Industries to continue to forge a path of innovation and technology for almost a century.

It's Consistency, it's Quality, and it's Family.

It's Better with Kason.
---
Kason® is a world-class manufacturer of essential hardware, accessories and supplies for the refrigeration, foodservice, industrial and truck body industries. We design innovative solutions backed by robust quality management to ensure exceptional products. From high-quality hinges, handles and LED lights to vinyl curtains, a broad range of fabrication supplies and more, you can depend on genuine Kason products that help your business operate more effectively and efficiently.
Since 1926, the Kason brand has represented dependability and excellence. Kason's four generations of expertise in producing fabricated metal parts means that customers can be assured of top notch hardware, produced efficiently and delivered on time.
Made in U.S.A.
Today we proudly manufacture the majority of our products in the U.S.A. at our Newnan, Georgia headquarters. Kason hardware products and accessories are available worldwide via our five North America branches, our company Oxford Hardware in the United Kingdom, and distributors located around the globe.
Engineering Expertise
Every Kason product is specified in-house and engineered to meet stringent standards. Our experienced factory staff utilize craftsmanship along with a full line of automated and robotic machinery, ensuring consistent product quality. In fact, quality management is built into every step of our manufacturing process. Kason is proud to be ISO 9001:2015 certified.
Custom Products
The Kason engineering team can help you develop custom product ideas. Our customers find great value in our years of experience developing solutions and manufacturing products. This experience ensures products meet expectations and the demands of the application. Contact us to learn more about our custom product capabilities to ensure successful outcome.
In addition to our walk-in and reach-in hardware we invite you to browse our other product offerings online that include: foodservice hardware and supplies, equipment legs and casters, cafeteria and cabinet hardware, fabrication supplies and wide range of commercial plumbing fixtures here.
Knowledgeable, friendly sales and customer service staff who are committed to your satisfaction are ready to assist you.
Your orders will be handled efficiently and accurately by our team who utilizes advanced systems to ensure that we meet your expectations, from the start to your receiving dock.
Always demand the best — demand genuine Kason products.