Titans of Industry Roundtable
Chaired by FCSI's Foodservice Consultant, the leaders of some of the world's largest equipment manufacturers discuss the industry's future at Host Milano 2019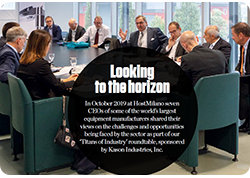 Roundtable attendees: Katia da Ros, CEO, Irinox SpA (KR); Andrea Cocchi, CEO, Ali Group EMEA and APAC (AC); Stefan Scheringer, CEO, Meiko Group (SS); Peter Stadelmann, CEO, Rational AG (PS); Georg Weber, CEO, MKN GmbH (GW); Iker Alberdi, CEO, Onnera Group (IA); David Brewer, COO, The Middleby Corporation (DB)
Foodservice Consultant launched its inaugural Titans of Industry roundtable in 2015, inviting the CEOs of some of the world's largest foodservice and laundry equipment manufacturers to discuss the sector in depth.
That event sparked a fascinating debate, so we revisited it four years on at HostMilano 2019 with a different group of leaders who have between them a vast amount of industry experience.
All of the participants represent businesses that are truly global and growing. Chaired by Michael Jones(MJ), editorial director of Foodservice Consultant magazine, attendees discussed the state of the market, opportunities on the horizon, and challenges the sector is working to overcome.
MJ Tell me about your company and the particular challenges you are facing?
KR We specialise in blast chilling and shock freezing. Today, it's a well-known concept but 30 years ago it was completely unknown. I remember when we were first talking to potential customers, they would say: "That's interesting, but we don't need anything like that." So, we essentially created a market that didn't exist before.
Today you can find blast chillers in most restaurants and high-end pastry shops. We have taken this concept all over the world, and are in around 90 countries across every continent. And it's been a great adventure. Very tough, because while it's difficult when you are in a market with a lot of competition, it's also difficult when you have to create a market where there are not only no competitors, but no customers. Read more from the roundtable CEOs.
A Constant Desire for Quality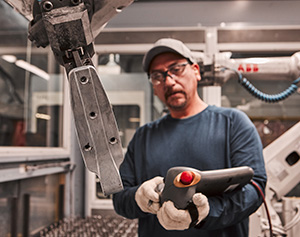 The equipment in commercial kitchens is only as good as its individual components, but rarely do we look behind the brand name of a freezer or a heated cabinet to see where those components come from. Jim Banks speaks to David Ring of Kason Industries, Inc. about how his company supports equipment manufacturers with high-quality hardware.
A door is only as good as its hinges. A cabinet is only as good as the casters on which it moves. When commercial kitchens install vital equipment, they are buying into the expertise and experience of not only the equipment manufacturer, but also that of the hardware suppliers.
Kason Industries, Inc. is a major supplier of kitchen hardware. Kason sells to original equipment manufacturers (OEMs) that make commercial coolers, freezers, ice makers, cooking and warming equipment, refrigerated and heated cabinets, warewashing machines and much more.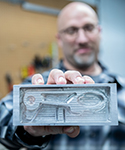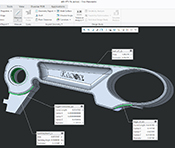 It is a company that is rare in its longevity, and it blends a long history in the industry with a passion for innovation.
"We have been manufacturing products in the USA for 94 years and not just importing parts to assemble and repackage," says David Ring, Kason's Vice President of Sales. "Our top priority is providing high-quality, long lasting products that improve the finished goods of our OEM customers, such as walk-in coolers, freezers and reach-in equipment."
"We are a fourth generation, family-owned and family-oriented company," he remarks. "We combine craftsmanship with the latest manufacturing equipment to produce our products. Our customers trust us for our long-standing industry presence, our proven manufacturing expertise, and our dedication to innovative solutions that shape industry-wide expectations." This foundation of trust encourages the major OEMs to partner with Kason when designing their products that ultimately make them better.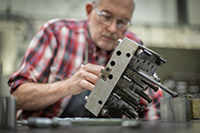 An open mind to innovation
Kason has a history of innovation. It was the first company to fit door release mechanisms on the inside of walk-in freezers, so people could let themselves out if they were accidentally locked in. They were also the first to develop, manufacture and market LED lighting fixtures for walk-in coolers, which improved usability and safety.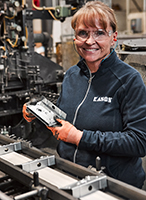 Just as safety plays an important role in their product innovations, so does the end-user's total cost of ownership. For instance Kason's development of a cam-rise hinge allows a door to lift when opened and help clear uneven floors. The cam also assists with the door closing after it's released. This hinge was later improved by including the ability to adjust the door's alignment after installation as doors sag due to the effects of gravity and heavy use.
A properly sealed door positively impacts everything from food safety, to equipment maintenance and energy savings. It helps keep foods at proper temperatures, reduces wear on the seals and more importantly helps the condenser motor not work overtime because the walk-in can maintain proper temperatures better.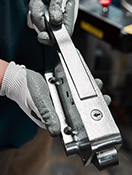 All of these aspects are rarely thought of, but can benefit the end-user's bottom line significantly.
The company's innovation comes from ideas generated by its skilled in-house engineering team as well as from its close relationships with OEMs, end-users and consultants.
"We listen closely to our customers," says Ring. "They view us as the hardware experts and our engineers are often utilized as an extension of their team. The combined knowledge and understanding increases our ability to innovate and improve product functionality, extend product life and explore the use of new materials."
From its manufacturing base in Newnan, Georgia, Kason is focusing on expanding its reach into global markets while maintaining its philosophy of highquality and constant innovation. That along with its dedicated after-sales service gives it a strong platform from which to maintain its industry leadership for another 94 years.