CUSTOM CASTERS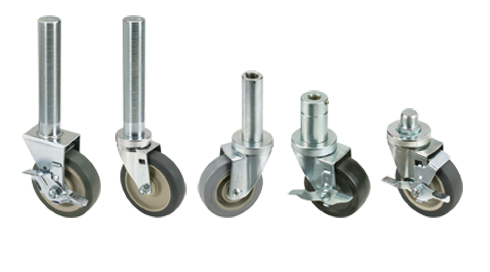 IF IT ROLLS, WE CAN SUPPLY IT*
Our specialty is providing caster solutions to meet your mobile  equipment requirements.
*Minimum quantities apply.
CUSTOM-DESIGNED CASTERS
Engineered for stability, strength and long-term dependability
Wide variety of mountings include custom top plates and specialty stems
Give us specifications for your moveable applications, such as mobile cabinets, deep-fryer units, food preparation tables, industrial assembly tables, material handling carts ­- wherever strong, dependable casters are needed
SELECT CASTER SIZE AND TYPE
Mobile load capacities from 120 lb. to 900 lb
Large single-ball or full double ball raceway construction
Stainless steel, steel with chrome, nickel, zinc or your finish.
CUSTOMIZE WHEELS AND BRAKES
Wide variety of caster wheels from basic rubber to durable polyolefin and smooth-riding, high traction urethane
Wheel sizes from 2" (50mm) to 8" (203mm) diameter.
Tread width from 7/8" (22mm) to 2" (50mm)
Available without brakes, with wheel only brakes, or with full wheel and swivel brakes
Select from pedal wheel or top lock brake
Options include plain or ball bearings, delrin bearings, zerk axles, and more