1752 SEISMIC AND SECURITY LEGS, 1-5/8" O.D. TUBING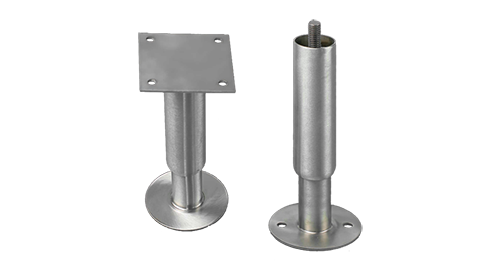 Leg height to your specification; some restrictions apply
16 GA. 300 series stainless steel tubing, 11 GA. flange. No. 4 satin finish
Mounts with threaded stud or welded plate
Special studs and mounting plates are available to meet individual mounting requirements
Static load rating 2000 lb. (907kg) per leg.
Seismic Restraint Leg
Center hole in flanged base fits over rod permanently anchored in the floor
Leg and rod are fastened with a stainless steel pin (not furnished)
Complies with SMACNA requirements
Security Legs
Specified for applications requiring secured, floor-fastened, adjustable legs
Ideal for marine and institutional uses