3700 SERIES RUBBASEAL™ SILICONE SEALANT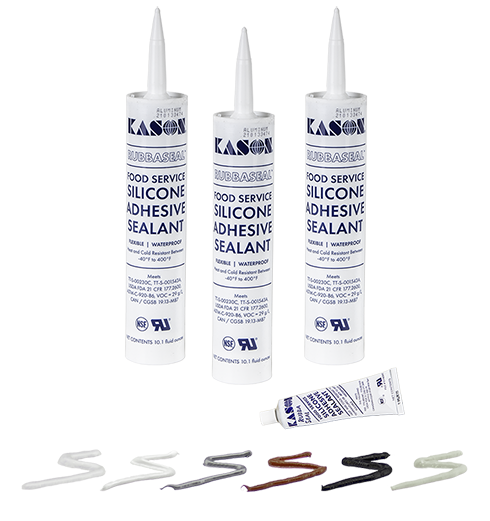 FOR HI- AND LO-TEMP FOODSERVICE USES
Premium grade, fully certified silicone adhesive sealant outperforms cheap hardware store brands
Waterproof adhesive bonds better than generic sealants; won't peel, reduces service call-backs for leaks
Air-cures overnight; tack-free in 15 min
Standard and high temperature formulas
Meets Federal and NSF standards for food service use
EASY TO USE
Will not sag during vertical, horizontal or overhead application
10 oz. one-piece plastic tube (non-removable tip)
3 oz. tube is ideal for small jobs and tight spaces. Special order with MOQ requirements
Fits standard caulk guns
Specifications
TEMPERATURE RANGE
Standard formula is serviceable from –80° F to 400° F. (–62°C to 204° C). High temperature formula is heat resistant to 500° F. (260° C).
PACKAGING
Two sizes available; see ordering information.
APPLICATION
 Apply vertically, horizontally or overhead, won't sag during application. Cylinder fits all standard caulking guns. Removable nozzle for cleaning and reuse after tube is opened.