1071A NYLON BEARING HINGE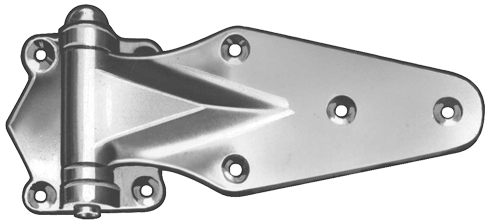 Nylon bearing washers provide smooth door swing and long life
High strength with stainless steel through pin
Supplied as right hand. Reversible by removing pin and washer and reassembling on opposite sides of strap.
U.S. Trademark: 5,923,906
Specifications
MATERIAL
High pressure die-cast zinc, stainless steel pin.
FINISH
Polished chrome.
OFFSETS
See ordering information.
MOUNTING
Drilled and countersunk for No. 10 (5.0 mm) screws.
LOAD RATING
See Hinge Selector Chart, Group C.
PACKAGING
24 per carton
WEIGHT
Approx. 23 lb. (10.5 kg) per carton