1241 HEAVY DUTY DOUBLE KNUCKLE HINGE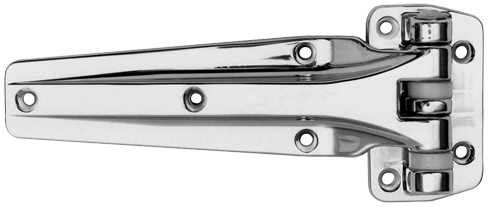 Engineered to take great stress and resist sag
Exclusive ribbed underside construction reduces weight while adding strength
Non-rising
Order as left-hand or right-hand
U.S. Trademark: 2,277,203
Specifications
STRAP LENGTH
9" (228.6mm).
MATERIAL
High pressure die-cast zinc with stainless steel pin and nylon bearings.
OFFSETS
See Catalog.
MOUNTING
Holes drilled and countersunk for 1/4" (6.0mm) screws. Strap available with three different mounting hole locations; refer to dimensions A and B on drawings.
LOAD RATING
See Hinge Selector, Group D.
FINISH
Polished chrome.