1345 PERFORMER™ ADJUSTABLE HINGE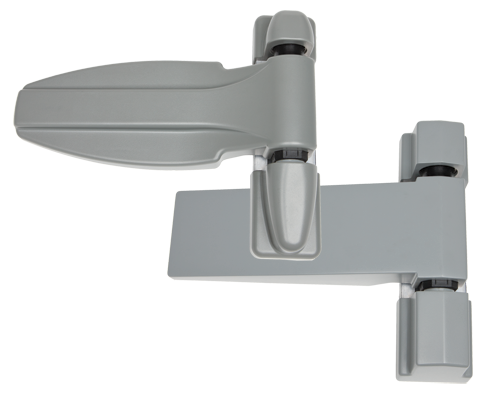 Keeps doors from swinging freely with a simple adjustment
Strap adjusts horizontally, providing door lift and rotation to compensate for sag in the frame or mounting
Strap is engineered with dual bearing points and through-shaft construction to ensure stability
Built-in spring action is standard
Time-tested cam-rise technology assists closing and reduces gasket wear, even with irregular floors
Flange has a removable pin, allowing lift-off of door without removing hinges
Left- and right-hand hinges use the same component parts for faster mounting and replacement. Install hinge flange and strap, then snap-on composite covers
Performer™ decorative covers are molded of reinforced, high-impact ABS composite material to resist wear and maintain appearance
Covers mount securely over hinge mechanism to keep out dirt and debris
Cover shapes and/or colors may be customized to suit your styling needs (based on volume commitment)
Performer™ 1345 meets NSF/ANSI Standard 2 for food equipment components
U.S. Patent Nos: 7,584,523; 7,870,642; 8,020,253 & D645,725
Specifications
MATERIAL
Precision die-cast aluminum flange with nylon cam, plated steel strap, reinforced high-impact ABS composite covers.
FINISH
Molded grey with black accents standard. Custom shapes and colors available, based on volume commitment.
ADJUSTMENT
Each strap adjusts ± 1/8" to provide 1/4"+ height adjustment. To adjust, loosen main clamping bolts, open door, jack door using micro adjustment screw and tighten clamping bolts.
OFFSET
Flush (0mm). Spring loaded.
MOUNTING
Drilled for 5/16" (8mm) screws.
LOAD RATING
Refer to Hinge Selector, Group F.
ORDERING
Order hinges (flange & strap) and covers separately