0055 SAFEGUARD® LATCH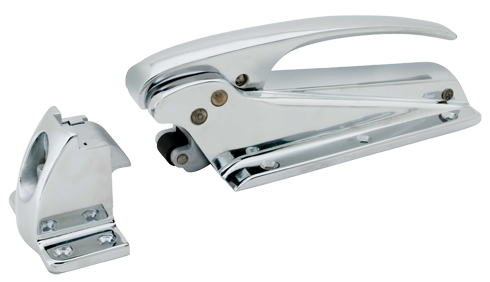 This pioneer, heavy duty refrigeration equipment safety latch has been imitated but never matched in rugged mechanical features and value. Designed to prevent accidental entrapment in walk-ins.
Designed for large doors and test chambers that require a positive latch
Complete with inside release lever to prevent accidental entrapment in locked walk-ins. Inside lever releases cylinder-locked or padlocked door
Innovative micro-adjustable strike assures precise adjustment
5582 SAFEGUARD® FREEZER LATCH
Freezer version of Kason pioneer, heavy duty No. 0055 refrigeration safety latch
Same features and specifications as No. 0055, except uses fiberglass rod and neoprene washer as cold barrier and inside release is rubber-coated to minimize surface frosting
Imitated but never matched in rugged mechanical features and value
SPRING OPTIONS
Specify preference as follows:
55XL – Latch with light spring
55XXL – Latch with extra-light spring; use with Kason 486D or 489D push-type inside release.
Specifications
MATERIAL
High pressure die-cast zinc body and strike housing, stainless steel handle, cold rolled steel inside release paddle assembly
PACKAGING
1 per carton
MOUNTING
Holes drilled and countersunk for 1/4" (6.0mm) screws
WEIGHT
Approx. 14lb (6.4kg) per carton
DOOR THICKNESS
Plunger rod for inside release handle fits 6" (152.4mm) door. Specify other door thickness.
5582 SafeGuard® Freezer Latch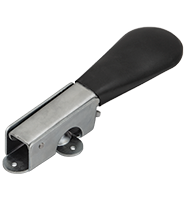 ---
Inside Release Handle