1808NMA & 1808FMA LED FIXTURE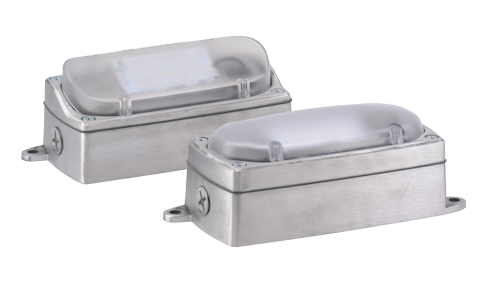 Low profile high impact Lexan lens with anti-glare technology
Wall-mount design directs light into aisle for better visibility of product on shelves
Preferred fixture for replacing inefficient lighting
Designed to reduce electrical usage by 85%
Minimal heat generation will lower utility cost
Exceed Federal Energy Act requirements
Rated for 50,000+ hours of life
Designed for damp/wet/cooler/freezer environments
5 year limited warranty on the light engine
U.S. Patent Numbers:
1808NMA - 9,546,782 & [D728,147]
1808FMA - 9,546,782 & [D728,150]
Specifications
MATERIAL
Lexan lens. Aluminum housing.
TEMPERATURE RATINGS
Operating temperature: -40°F (-40°C) to 77°F (25°C)
MOUNTING
Surface mount
ELECTRICAL
120 VAC 240 VAC, 50/60Hz.
110mA @120V
& 56mA @240V Power factor: 0.95
CRI 83
1808NMA1:
13 Watts
1152 Total Lumens
88 Lumens/Watt
1808FMA1:
13 Watts
1186 Total Lumens
91.5 Lumens/Watt
SAFETY STANDARDS
RoHS
UL Listed US and Canada, File No. E333932
NSF Listed
IP-65

PRISON PACKAGE
Tamper resistant fastener kit option available.