1901A SERIES MOTION SENSOR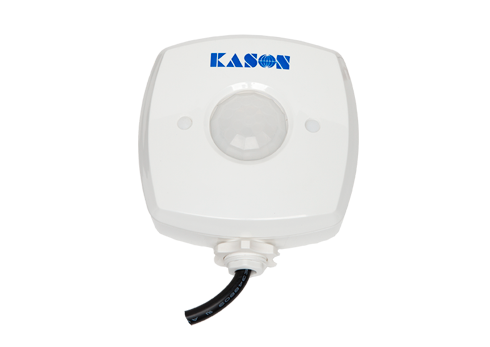 SAVES ENERGY AND MEETS FEDERAL ENERGY REGULATIONS
Specifically engineered for installation in walk-in coolers and freezers
Uses electronic components to allow for reliable operation in extreme temperatures
Features a gasketed water-tight enclosure which prevents moisture and dust from entering the sensor and affecting occupancy detection
Operation: Passive infrared sensor detects motion and turns lights on at temperatures below freezing. Uses DIP switches to set time delay and PIR sensitivity
Low Bay Sensor: High density optic lens set covers a 24 ft (7.3 m) diameter with ceiling height up to 20 ft. (6.1 m)
High Bay Sensor: Same as the low bay sensor except with ceiling height from 20 ft. (6.1 m) to 40 ft. (12.2 m)
Specifications
OPERATION
Passive infrared sensor detects motion and turns lights on at temperatures below freezing. Uses DIP switches to set time delay and PIR sensitivity
COVERAGE
LOW BAY SENSOR: High density optic lens set covers a 24 ft. (7.3m) diameter with ceiling height up to 20 ft. (6.1m).
HIGH BAY SENSOR: Same as above except with ceiling height from 20 ft. (6.1m) to 40 ft. (12.2m).
MATERIAL
Polycarbonate
TEMPERATURE RATINGS
–20°F (–28.9°C) minimum;
160°F (60°C) maximum
VOLTAGE
120 /277 vac at 50/60 hz.
LOAD
120 VAC with 0-800 W ballast;
277 VAC with 0-1200W ballast.
TIME DELAY
Convenient DIP switch adjusts from 10 seconds to 20 minutes after walk-in is exited. Factory set to 2 min.
ELECTRICAL CONNECTION
1/2" (12.7mm) NPT thread,
13-1/2" (342.9mm) AWG wire
MOUNTING
Horizontal or vertical for use with all Kason light fixtures (Mounting kit included)
SAFETY STANDARDS
IP65, UL-listed US and Canada for wet locations, and NSF
OTHER
Suitable for wet locations. Fully gasketed and enclosed to minimize effects of temperature extremes.