PANELOCKTM 1153 BARBED LOCKING POINTS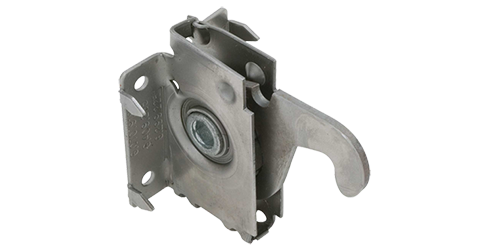 Typical application for tongue and groove rails where fasteners are nailed or stapled to rails.
Housing designed to resist spreading in high density foam rails under heavy loading.
Extra Spread resistant versions are available which provide the ultimate in load rating for high-wind load applications. Special cam hub shape resists spreading of the casing under high loads. See models with "SR" after the "A" or "B".
1153B is functionally interchangeable with No. 1156B, with added feature of self-securing barbs. Eliminates the need for nails or staples in soft rail materials.
U.S. Patent Nos. 9,803,403 and 9,863,143
Specifications
MATERIAL
Steel housing and hook, high pressure die cast cam.
1153A
HOOK REACH
1-31/32" (50mm)
1153B
HOOK REACH
2-11/32" (59.5mm) for use with butt joint panels or thick rails.