GREENGUARD® BY KASON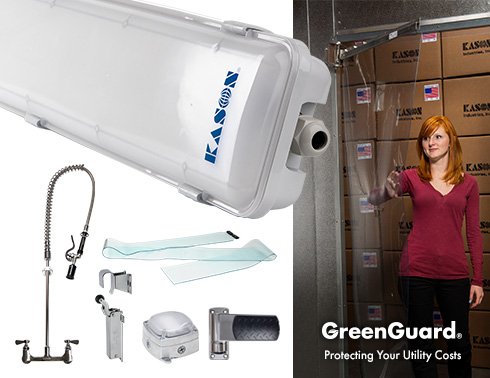 Kason's family of GreenGuard® products provide you, the customer, with functional and sustainable solutions to reduce energy consumption, overall cost and your operations carbon footprint; all while providing the durability and high standards you have come to expect from Kason since our founding in 1926.
GreenGuard® features a wide variety of products from LED lighting and vinyl strip curtains to low-flow and AB-1953 compliant plumbing, all designed specifically to meet your demands. All Kason GreenGuard® products can not only be specified on new projects, but also are designed for easy and low cost retrofitting.
Kason® has a multitude of products to help you fulfill the requirements of The Energy Independence and Security Act. Kason Industries is also a member of the U.S. Green Building Council (USGBC), a 501 c3 non-profit organization committed to a prosperous and sustainable future for our nation through cost-efficient and energy-saving green buildings.
GreenGuard® is the easy solution to reduce your operating costs in existing foodservice or new construction foodservice operations. Members of the Kason family are always ready and willing to work with you to provide the perfect sustainable solution.
From vinyl strip curtains to LED lighting and innovative hardware, Kason Industries dedicates itself to a tradition of excellence and a philosophy of innovation.