1229 SAFEGUARD® HANDLE SERIES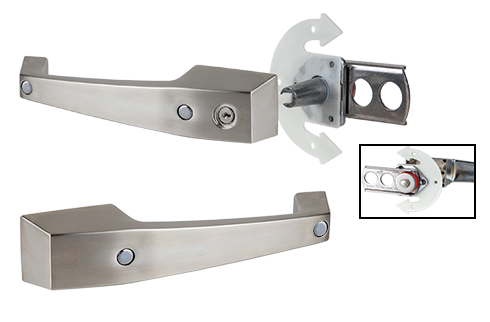 Fully door-mounted to assure locking regardless of door sag
Complete with revolutionary high strength, low maintenance inside safety release system
Installs on either right- or left-opening door with no modification
Handle is furnished with screw hole plugs for tamper-resistance
Freezer Kit* available for low temp application
U.S. Trademarks: 2,166,710 & 5,272,931
1229 NON-LOCKING HANDLE
1229S SAFEGUARD® HANDLE
Rugged, sanitary 316 stainless steel handle for use on walk-in coolers/freezers
Both locking and non-locking model available in satin finish
Cylinder locking model uses a 948 Inside Release for emergency egress
Can be locked and unlocked from inside the enclosure
System functions regardless of door sag
Standard order includes optional freezer kit
FREEZER KIT
*Kit consists of plastic cap to cover rod, gasket for handle flange and special instructions for low temperature installations. Application of the specified low-temp grease seals the unit to prevent accumulation of moisture.
Specifications
MATERIAL
PULL HANDLE: High pressure die-cast zinc.
INSIDE RELEASE: Metal hub and flange, stainless steel arm and bolt, nylon shaft, polypropylene strike.
MOUNTING
PULL HANDLE: Drilled and countersunk for 1/4" (6.0mm) fillister head or No. 12 (5.0mm) self-tapping screws.
INSIDE RELEASE: Holes drilled and countersunk for No. 10 (5.0 mm) flat head screws.
SHAFT LENGTHS:
Standard lengths for door thickness from 3-1/2" to 4" (88.9 mm to 101.6mm). Please specify door thickness. Custom lengths available to specification. Minimum wall thickness 2-1/4" (57mm).