0177 EDGEMOUNT MECHANICAL LATCH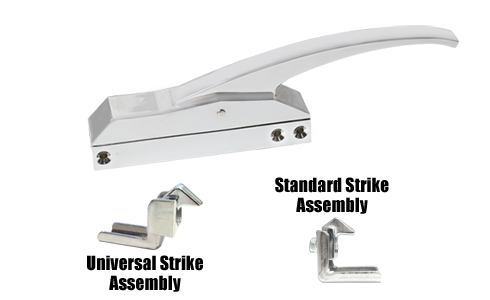 Large footprint latch
Zero handle movement on door closing
All cylinder or non-cylinder model latch with simplistic internal function
Chrome Latch with Black Composite Heat Resistant Handle and brass roller for oven application. (Optional)
No drill fixture modification required
Slotted hex screw fastener eases strike adjustment
Bolt up retro fit replacement for uer's of Kason Model 174 Latch and Strike
No pinch point handle for improved safety, protects against employee injury
Long term dependable service reduces maintenance cost
Specifications
MATERIAL
High pressure die-cast zinc body and handle, die-cast and steel strike. Composite handle available.
FINISH
Polished chrome.
WEIGHT
Approx. 20 Lb. (9.09 kg) per carton.
MOUNTING
Latch is edge mounted; strikes are surface mounted. Drilled and countersunk for No. 10 (5.0 mm) screws.
PACKAGING
12 per carton.
STRIKE ADJUSTMENT RANGE
Universal Strike: 9/16" (14.3 mm) to 1" (25.4mm).
Standard Strike: 21/32" (16.7 mm) to 1-3/32" (27.8 mm).